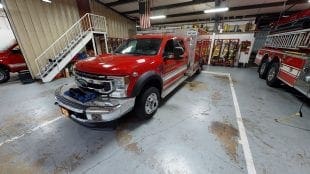 Ford, F550 Super Duty w/Aluminum Cab, 4 x 4.
Powered by a 6.7L V8 Diesel Powerstroke w/330HP; also using an auxilliary exhaust brake.
Pierce manufactured running board package/ Aluminum 4-way.
Dual alternators keep up with the electrical system with a 397 amp total.
A load manager is included with the electrical system.
Apparatus houses a Waterous CXC20 1500GPM Single Stage Pump.