24/7 EMERGENCY PHONE NUMBER FOR OUT-OF-SERVICE APPARATUS: 866-764-9110
At Emergency Equipment Professionals, we know that taking one of your emergency vehicles out of service for repairs or preventive maintenance is a challenge to any department, especially if you have to drive hours to a service location. With four conveniently located service centers and a fleet of mobile service trucks, Emergency Equipment Professionals has the region's most comprehensive network of dedicated professionals to provide your organization with support when and where you need it.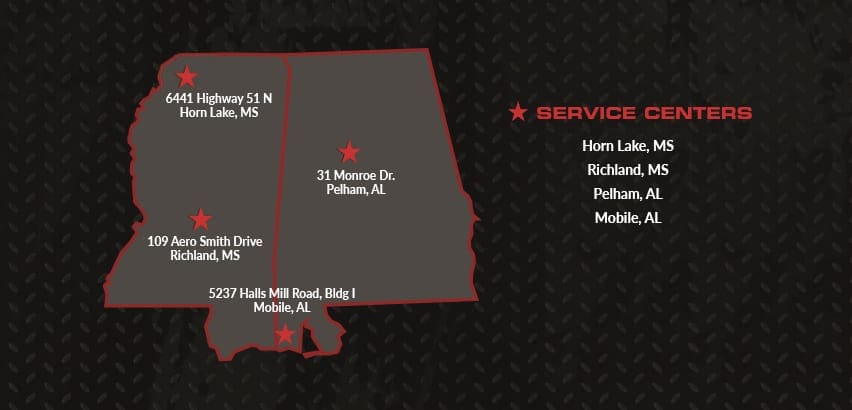 Each of our service centers is equipped with the tools and parts for almost any maintenance, repair, and/or upgrades that your vehicle (or emergency equipment) might need. Facilities include 17,000 square feet at our Horn Lake, MS office; 15,000 square feet at our Pelham, AL office; 12,000 square feet at our Richland, MS, office; and 15,000 square feet at our office in Mobile, AL. Our staff is highly trained and certified in EVT and ASE, so not only does the repair get done quickly but it is diagnosed and fixed correctly the first time around.

If bringing it to us is not the best option, we'll come to you. Our fleet of mobile service technicians is fully equipped to handle most of your maintenance and repair needs at your location, saving you time, money and personnel issues. Also, our toll free number turns into an emergency line after hours so you can still call and get a hold of someone to help with your vehicle or equipment issues 24/7.
A One-Stop Shop Service Center You Can Count On
The EEP Service Department is designed to be the one-stop shop for all of your repair and maintenance needs. Our technicians are experts in all types of fire and emergency vehicles, as well as engine and chassis, regardless of manufacturer, ensuring the consistency and quality you demand. Let us help you with any repair issues that might arise. We can perform anything from a minor light or electrical problem to major fire pump and/or engine overhauls. We use the latest diagnostic tools for rapid and accurate repairs to get you back in service as quickly as possible.

Service Plans Designed Just for Your Department
Every fire department and emergency service provider is different and has different vehicle servicing needs. Whether you want a quick oil change, a complete vehicle service and inspection, or need some repairs, we will work with you to get the services you need and within your budget. We can help you meet the maintenance requirements of NFPA 1911, ISO and/or MS Rating Bureau.
Documentation Always Provided for Safety and Reference
We provide you with both written and electronic versions of all inspections, maintenance, and repairs that we do. For your convenience, we keep copies on file should you ever need them again. We can also help you meet the documentation requirements of NFPA 1911, ISO and/or MS Rating Bureau.
EEP Takes Preventative Maintenance to the Next Level
There is nothing more distressing than to have one of your emergency vehicles break down on the side of the road. A well-planned and performed Preventive Maintenance and Inspection program is a vital element of a fire department's safety program, which helps minimize breakdowns, extend the life of the vehicle, and save you money by avoiding emergency repairs.
Interested in learning more about our services? Fill out our easy online form on this page or give us a quick call at 866-764-1822. A knowledgeable staff member is waiting to help you diagnosis the problems with your emergency vehicle or equipment and get it back in working order ASAP.