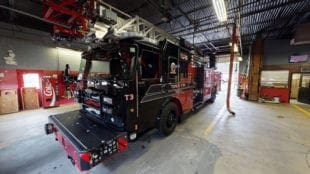 The Enforcer 7010 Cab with aerial notch and 10″ raised roof.
This 75′ Aerial is powered by a Cummins L9 @ 450 hp with 1250 ft. lbs. of torque.
A Jacobs Compression Brake with Hi, Med, and Lo settings assist this apparatus in stopping.
This truck features side roll and frontal impact protection.
In cab there is a Vehicle Information Center with 7″ color display for viewing the Pierce Command Zone and the camera system. Pierce – Electrical Systems | Pierce Mfg
Equipped with a Vehicle Data Recorder on an overhead display including seat belt monitor.
Another safety feature of this apparatus is the HAAS Alert. HAAS Alert Collision Mitigation | Pierce Mfg
This apparatus houses a Waterous 1500 GPM CSU Single Stage Pump with a 500 Gallon tank.
The ladder compliment on the apparatus is a 35′ 3-section, 24′ 2-section, (2) roof ladders at 16′ and 10′, and a 10′ folding ladder.
There are two crosslays in the under slung bumper, both equipped with 200′ of 1.75″ hose.
The truck has an LDH capacity of 800′ of 5″.
This truck is equipped with a Husky 3 foam system for added suppression capability, including a 30 gallon Class "A" foam tank. Pierce – Husky™ 3 Foam System | Pierce Mfg
This apparatus is equipped with a traffic advisor to help guide traffic around. Traffic Advisor™ Archives – Whelen Engineering Company, Inc.
Aerial portion of the truck has a 3-way Fire Research ICA900 hands free intercom system for communication between the basket, turntable, and pump panel.
This apparatus came with 5 spare wiring circuits, one to a 12v DC bus bar, and 4 USB terminations.
It is equipped with an array of adjustable shelving and floor mounted trays and a swing out toolboard.