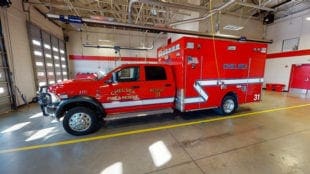 Demers MXP 150 Type I Ambulance. Emergency Type 1 Ambulance | Demers Ambulances (demers-ambulances.com)
Dodge 4500 Chassis and cab, 4 x 4; powered by a Cummins 6.7L Turbo Diesel.
This Unit also features the Liquid Spring Suspension.
This apparatus is 150″L x 95″W with 72″ of headroom. Includes drip rails over all doors.
Equipped with a Low Frequency Tone System from Whelen. Whelen | Sirens and Speakers | Howler siren
Outfitted with the Fire Research Intercom System – Model ICA900-213.
Features a Roscoe Camera System with a 7″ Quad View Color Monitor and camera views of the driver, L and R sides, Patient Module, and rear back-up. Backup Camera System with Waterproof Protection | STSK7360 (roscovision.com)
Also outfitted with a Go Rhino 3000 series brushguard including headlight guards.
Emergency light warning package was upgraded to the Whelen "C" series surface max.
Power Inverter is a Xantrex Freedom HW 1000.
Equipped with the Stryker Power Load System with a center mount cot configuration.