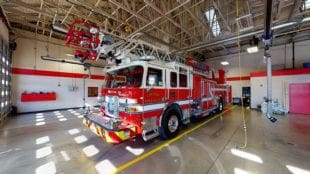 Chelsea Fire Departments 107′ Ascendant Class Aerial on an Arrow XT Chassis.
This unit is powered by a Cummins ISX 12 @ 500 hp. with 1645 ft. lbs. of torque w/obd.
Equipped with a Jacobs Compression Brake w/Hi, Med, and Lo setting.
Safety features include side roll and frontal impact protection, vehicle data recorder with seat belt monitor, cameras facing forward and in cab with one rear back up camera.
Truck is equipped with a Radio to intercom interface with firecom wireless headsets.
Unit carries 500 gallons of water and is able to move it with a Pierce 1500 gpm single stage puc pump.
Husky 12 Class A Foam System with the multi select feature and 50 gallon foam cell.
On board is a Smart Power HR-10 Hydraulic Generator that powers an electric reel and a compliment of receptacles.