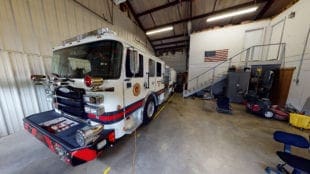 This is Reservoir Fire Department's Saber FR custom pumper. Pierce – Saber® | Custom Chassis | Pierce Mfg
This pumper is powered by a Cummins L9 @ 450 hp. with 1250 ft. lbs. of torque.
Equipped with high idle with an electronic engine.
Engine is also equipped with a Jacobs Compression Brake with Hi, Med, and Lo settings.
The pumper is also wired with five (5) spare wiring circuits.
The apparatus also has a Vehicle Data Recorder with seat belt monitor. The display is in the LS overhead of cab.
Installed is the Waterous CSU, 1500 GPM single stage pump connected to a 750 gallon New York style water tank. (Poly) with a lifetime warranty.
Adjustable shelving, trays, floor mounted trays, tilt trays, and pegboard make up the compartment configurations for equipment storage.
The pumper is fitted with the Whelen Freedom IV-V lightbar. Whelen | Lightbars | Freedom® IV
The hose bed on this apparatus with hold one thousand feet of five (5) inch and five hundred (500) feet of three (3) inch double jacketed hose.
A booster reel is installed over the pump on the right side of the apparatus.