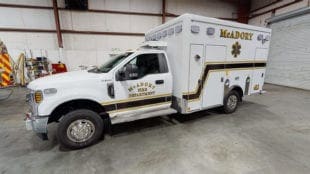 Base Option:
McAdory Fire Department's Crestline CCL150 with a 150″ box and 96″ wide body and a spacious 72 inches of headroom.
Chassis:
This Type I unit sitting on a Ford F350 Super Duty Diesel 4 x 4 Chassis and cab.
Features Anti-Theft Security and high idle system with OEM mirrors, chrome simulators, and a hidden valet switch.
Drivers Compartment:
Cab to module talk through opening with sliding window allows for communication with attendant.
Equipped with the OEM voltmeter and a digital conversion voltmeter on the drivers console, along with the patient status indicator lights (Red, Yellow, and Green).
The drivers console features "Door Ajar" and "Compartment" indicator lights, as well as, two USB charging ports.
There are reading lights centered over both the passenger and drivers seat. (Red/White LED).
Conversion:
C1 compartment features an ALS inside/outside access with sealed battery storage area.
Two step interior access with LED step well lights, and undercoating protection.
C3 compartment has dual backboard storage with straps, two adjustable shelves for equipment bags and includes chair stair storage.
Main oxygen storage in S1 compartment with the electrical control center (EEC) with lower equipment storage in S2.
Compartment S3 is closed off having outside access with two adjustable shelves for equipment bags.
Interior Curbside:
Unit features a two position squad bench with 6 point harness system providing the ability for transport of a second patient.
Front ALS compartment w/two adjustable shelves and locking doors, plus a lockable drug cabinet above the ALS compartment.
Interior Street side:
CPR seat with 6 point harness system, restocking frames with sliding polycarbonate doors.
Rear facing EVS seamless vinyl seat w/child safety device and 3 point seatbelt, with two position swivel base and center mount cot configuration.
Electrical:
Multiplex electrical system using toggle switches with LED backlit pictogram and curbside switch panel.
Compartments feature high intensity LED rope lights; there are also six (6) LED dome lights with multiple intensity settings.
Unit also features a Xantrex Freedom XC pure sine-wave inverter, also equipped with back up camera w/monitor in cab.