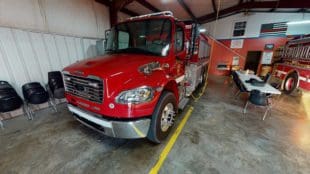 A 2018 Freightliner M2-106 with Tandem rear axles. Pierce – Freightliner | Commercial Fire Truck Chassis | Pierce Mfg
On board is a Cummins ISL9 w/350 HP. Electronic engine equipped with high idle.
Features a vehicle data recorder with seat belt monitor.
Carries 3000 thousand gallons of water in a lifetime warranty poly tank. Pierce – Pumper Tanker | Pierce Mfg
The Dump Chute is a rear mount Newton 6012SW Swivel, with telescopic extension.
Equipped with an assortment of adjustable shelving, mounting plates, and swing out toolboard.
Carries a compliment of ladders and pike poles.
Houses a 1000 gpm Hale single stage pump.
Apparatus was pre piped for a single agent foam system, including provisions for a 30 gallon foam cell.
The lightbar is a Whelen Justice LED with 8-R, and 2-W. Whelen | Lightbars | Justice®
Compartment doors are Gortite Roll-ups with a satin finish.
Equipped with the FRC, Pump Boss, PBA200 pressure controller.