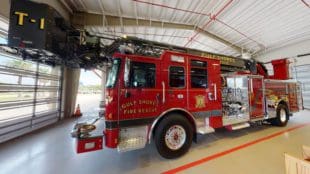 An Enforcer 110 Ascendant Class Aerial, single axle.
TAK-4 Front suspension. Pierce – TAK-4® Independent Front Suspension System | Pierce Mfg
Equipped with a Cummins X12 at 500 hp. with 1695 ft. lbs. of torque with on board diagnostics.
High Idle with Electronic engine and a Jacobs Compression Brake with Hi, Med, and Lo settings.
They included a Warn winch, Zeon 10-S at 10,000 lbs.
7010 Enforcer Cab with aerial notch.
The vehicle information center has a 7″ color display for viewing the back up camera and the Pierce Command Zone. Pierce – Electrical Systems | Pierce Mfg
There is a vehicle data recorder with the command zone and a seat belt monitor display.
Equipped with a HAAS Alert, collision mitigation system. HAAS Alert Collision Mitigation | Pierce Mfg
Has a Sigtronics intercom with four headsets.
Has a 500 gallon poly water tank with lifetime warranty.
Equipped with a Waterous CSU 2000 GPM single stage pump with a PBA300 Pressure controller.
They pre-piped for a Husky 3/12 foam system and included a 20 gallon foam tank. Pierce – Husky™ 3 Foam System | Pierce Mfg
Whelen Freedom IV-Q light bars, one either side of ladder. Whelen | Lightbars | Mini Freedom®
Has a Traffic Advisor in the rear of the apparatus. Traffic Advisor™ – Straight Style – Whelen Engineering Company, Inc.
Hands free 2-way Fire Research intercom for bucket, turntable, and pump house.
Apparatus has thirteen spare wiring circuits.
Carries an array of tool boards, adjustable shelves, and trays, along with a full compliment of ground ladders.