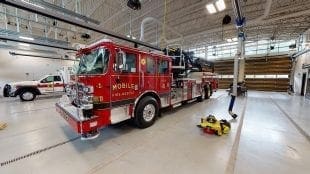 This apparatus sits on a Arrow XT Chassis, 100AAT with a wheelbase of 252″.
The powerplant is a Cummins X15 @ 600HP w/1850 ft. lbs. of torque w/OBD.
Equipped with the Pierce Command Zone giving you advanced electronics and control systems, diagnostic LED's and WIFI.
Contains a vehicle information center w/7″color display and touchscreen.
Apparatus is also equipped with camera's in the R, DS, and RS.
Apparatus houses a 300 gallon poly tank with a Waterous single stage pump @ 2000gpm.