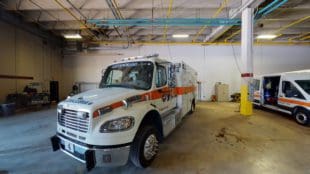 This is a 2020 Freightliner M2-106 Chassis with 174″ wheelbase.
This is a Type I Super Chief ambulance with 73 inches of interior headroom. Super Chief Type 1 Ambulance Model by Braun Industries (braunambulances.com)
The unit is powered by a Cummins B6.7 at 260 hp. @ 2400 RPM and 660 ft. lbs. of torque.
Unit is equipped with a automatic high idle system. It activates when the transmission is placed in the park position and the parking brake is applied.
An OEM air ride drive axle suspension system gives it a front to rear vehicle ride height consistency regardless. There is an automatic lowering feature for the patient compartment.
The engine is equipped with a block heater and the power cord located under the hood.
A Weldon V-MUX 100 percent solid state microprocessor based multiplex system is installed to control the electrical functions of the unit. The system includes load management, load shedding, power modulation, load sequencing, and on board diagnostics with real time status reporting.
A back up camera is installed to view the rear exterior of the module and connected to a color display in the cab.
Drip rails are installed above all compartment doors.
A USSC Valor rear facing attendant seat with an integrated child safety seat is installed at the head of the patient cot. The seat is a two position swivel seat mounted on a pedestal base with a heavy duty seat frame for an ABTS (all belts to seat) application with four point/four retractor single click internal mount belt system.
CPR seat is installed on the street side of the patient compartment aft of the main action area counter. The seat belt consist of a single click four point/four retractors, internal mount belt system.
All emergency lighting is Federal Signal . Federal Signal: Innovative public safety products and systems (fedsig.com)
A custom radio/electronics cabinet is built in the front wall.
A transverse area is accessible from either side of the front compartment doors.