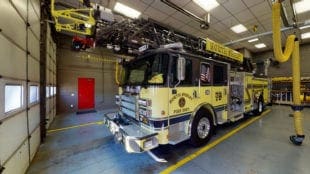 North Shelby Fire Districts Ascendant Class 107′ Aerial, single axle.
Features a Cummins L9, 450 hp. engine at 1250 ft. lbs. of torque w/OBD and Jacobs Compression Brake with Hi, Med, and Lo settings.
Apparatus features a vehicle information center with a 7″ color display, touchscreen.
Equipped with a vehicle data recorder including a seat belt monitor; also installed is a Pierce back up camera with audio located on the ceiling behind the driver.
Features the Pierce Command Zone with advanced electronics and control system.
Equipped with a Waterous CSU Pump @ 2000 gpm, single stage; also houses a 500 gallon poly tank w/lifetime warranty.
Apparatus carries (2) crosslays, one 1.5″ and one 2.5″, a Husky 3 foam system w/30 gallon foam tank.
The hose bed has the capacity for 1000 ft. of 5 in. LDH hose.
Compartment doors are Amdor, painted to match the lower body. Compartment lighting is Pierce dual LED light strips, one on each side of door.
The ladder compliment includes: 35′ 3 section, (2) 24′ 2 section, (2) 16′ Roof, (1) 14′ Roof, and a 10′ folding ladder.
Equipped with the Whelen Freedom IV_Q mini light bars at 21.5″ each, one each side of ladder.
Brackets on aerial to store a Stokes Basket, Axe, Pike Pole and roof ladder. Aerial also equipped with a 2-way fire research ICA900 hands free intercom.
The tip of the aerial carries a Akron 3480 Stream Master II Electric with an extended vertical travel.