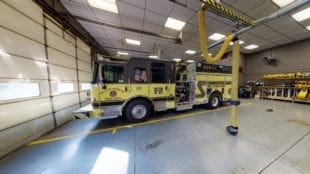 North Shelby Fire Districts' Custom Saber Pumper.
This unit is powered by a Cummins L9 at 450 hp. with 1250 ft. lbs. of torque w/OBD and Jacobs Compression Brake with Hi, Med, and Lo settings.
Features a Wabco Brake System with ABS.
Apparatus is Equipped with a Vehicle Information Center w/LCD on gauge cluster, A Vehicle Data Recorder with seat belt monitor.
Equipped with a Firecom 5100D Radio to intercom interface, allowing communication.
A load manager has been integrated into the electrical system, allowing it not to be overloaded.
Apparatus is equipped with a Waterous CXC20, 1500 gpm single stage pump connected to a 750 gallon poly water tank with life time warranty.
The Hose bed capacity is 1500′ of 5″ LDH, 400′ of 3″, and 200′ of 2.5″
Compartment doors are Amdor, painted to match lower body, with compartment lighting being Pierce LED dual light strips, one on each side of door.
Ladder compliment is: 24′ 2 section, 14′ roof, and 10′ folding installed on a hydraulic ladder rack.