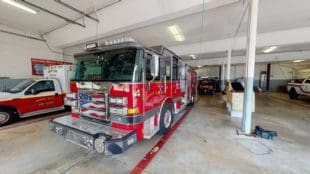 Enforcer pumper with 7010 cab.
TAK-4 front suspension. Pierce – TAK-4® Independent Front Suspension System | Pierce Mfg
Equipped with a Cummins L9 at 450 hp. with 1250 ft. lbs. of torque and on board diagnostics.
Electronic engine with high idle and a Jacobs Compression Brake with Hi, Med, and Lo settings.
Pumper has eight spare wiring circuits.
Vehicle information center with LCD on the gauge cluster.
The HAAS alert, collision mitigation system has been installed. HAAS Alert Collision Mitigation | Pierce Mfg
A Vehicle data recorder with a seat belt monitor.
A Firecom 5100D intercom in four positions.
A Pierce 7″ LCD on the driver side dash for the R, RS, and LS cameras.
A Rosco camera (DV XC4) mounted to the winshield for forward and interior DVR.
Hose bed capacity of 1300 ft. of 5″ LDH on RS and 500′ of 2.5″ on LS.
There are two running board hose trays, one each side.
An assortment of tool boards, trays, partitions, and pegboard in the compartmentation, along with an oil dry hopper.
Equipped with a Hale QMAX-150, 1500 GPM, single stage pump with a class 1 total pressure governor (TPG).
They added the Husky 3 single agent foam system with a 20 gallon tank for Class A foam. Pierce – Husky™ 3 Foam System | Pierce Mfg
The emergency light bar in the Whelen Freedom IV-Q 72 inch. Whelen | Lightbars | Freedom® IV
19 inch extended front bumper with hose tray for 125′ of 1.75″ hose.
There is one-quarter inch aluminum on the the engine tunnel for mounting provisions.
The Pierce LED dual light strips were used for compartment lighting, one on each side.