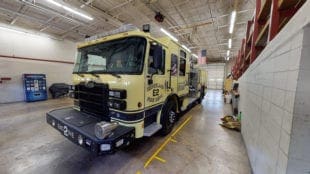 This custom pumper for Ridgeland Fire Department is an Enforcer Chassis with a 7010 Cab.
The TAK-4 Suspension offers a stable ride with exceptional maneuverability. Pierce – TAK-4® Independent Suspension Systems | Pierce Mfg
A Cummins L9 @ 450 hp. with 1250 ft. lbs. of torque w/OBD powers the apparatus.
A Jacobs Compression Brake with Hi, Med, and Lo settings onboard to assist in stopping.
Side roll and frontal impact protection is present. Pierce – Safety Systems | Pierce Mfg
Other safety features include a Vehicle information center, Vehicle Data Recorder with seat belt monitor and overhead display.
A Pierce camera system for the R, and RS with audio near the driver's left knee.
The Pierce Command Zone with advanced electronics and control system with WIFI. Pierce – Electrical Systems | Pierce Mfg
The compartment configuration consist of different adjustable shelves and pegboard for mounting options.
It houses a Waterous, single stage, pump at 1500 GPM with a five hundred gallon water tank.
The Husky 3 foam system assist in fire suppression. Pierce – Husky™ 3 Foam System | Pierce Mfg
The pumphouse is a 48 inch top-mount with 19 inch walkway and access from both sides.
The Whelen Freedom IV-Q light bar provides emergency lighting for response. Whelen | Lightbars | Freedom® IV
The Traffic Advisor gets traffic moving around the apparatus. Traffic Advisor™ – Straight Style – Whelen Engineering Company, Inc.