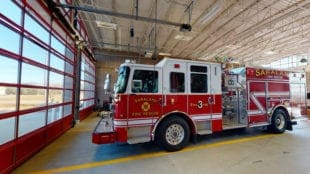 Saber Custom Pumper powered by a Cummins L9 at 450 hp. with 1250 ft. lbs. of torque with OBD. Pierce – Saber® | Custom Chassis | Pierce Mfg
This apparatus has the capacity to seat six (6) personnel.
This pumper has four (4) spare wiring circuits, terminating in various locations.
Apparatus features a Vehicle Information Center with LCD on the gauge cluster, another safety feature is the Vehicle Data Recorder with seat belt monitor.
Features a David Clark intercom interface for communication including headsets.
The Pierce back up camera with 7″ LCD gives the driver an unobstructed rear view when backing. The monitor is located in the driver side overhead.
Apparatus carries a Hale DSD 1500 gpm single stage pump connected to a 750 gallon poly water tank with a life time warranty.
The hose bed has a capacity to hold 1000′ of 5″ LDH and a 1000′ of 3″.
This unit also features an oil dry hopper located on the RS behind the rear wheel with a 50 lb. capacity.
The foam system is the Akron Eductor 3096-95 single agent with a 25 gallon Class "A" foam tank.
The light bar is the Whelen Freedom IV-Q 72″ Whelen | Lightbars | Freedom® IV
The Whelen TACTL5 traffic directing light will operate to help move drivers to one side. Traffic Advisor™ – Straight Style – Whelen Engineering Company, Inc.