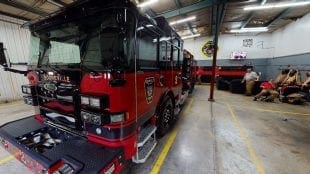 This pumper features a black over red paint scheme with blackout
It boast the Cummins L9 w/450HP and 1250 ft. lbs of torque.
Complimenting this apparatus is a 70″ Enforcer cab w/a 10″ raised roof.
This pumper is also equipped with side roll and frontal impact protection.
For added safety it is equipped with camera's to the rear and right side.
On-board is the Hale QMAX-125 pump @ 1250gpm. (Single Stage)
Also, on board is the Husky 3, single agent, multi select foam system.