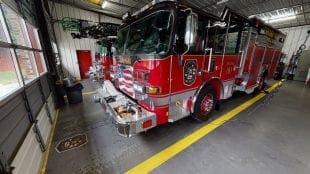 2020 Arrow XT PUC Pumper
This unit is powered by a Detroit DD13 @ 505HP and 1750 ft. lbs. of torque w/OBD and a Jacobs compression brake.
This apparatus features a Pierce PUC 1500GPM single stage pump; along with a 750 Gallon poly tank.
It has been fitted with the added capability of the Husky 3 foam system w/the single agent multi select feature, also housing a 30 gallon Class A foam cell.
It is equipped with a Wabco Brake System with ABS.
Tire pressure monitoring is also a feature of this apparatus.
Apparatus is equipped with an intercom interface with headsets for five (5) positions.