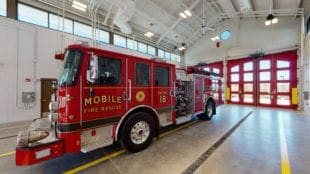 This is a 2019 Enforcer Pumper with an overall height of 9'6″ loaded, an overall length of 30′, and a wheelbase of 174.5″.
This unit features the Oshkosh TAK-4 Suspension Pierce – TAK-4® Independent Suspension Systems | Pierce Mfg
Apparatus is powered by a Cummins L9 at 450 hp. with 1250 ft. lbs. of torque with OBD and a Jacobs Compression Brake with Hi, Med, and Lo settings.
Unit features a 75 gallon fuel tank.
Apparatus has four (4) spare wiring circuits, of which, two terminate on the instrument panel, one on the right and one on the left. One terminates at the end of the engine tunnel to be used with the equipment mounting plate. The last terminates behind the officer seat.
Unit is equipped with a Vehicle Information Center, LCD is on the gauge cluster, other safety features include a Vehicle Data Recorder with seat belt monitor. Also includes a Pierce 7″ LCD rear camera with the monitor on driver side dash.
Equipped with an Akron 12V SceneStar visor light.
Apparatus houses the Hale QMAX-150 1500 gpm single stage pump connected to a 500 gallon poly water tank.
Features hose bed capacities left to right at 200′ of 2.5″, 200′ of 2.5″, 1000′ of 5″ LDH, and 200′ of 1.75″.
Compartment lighting is the Pierce LED dual light strips, one on each side of door.
Equipped with a booster reel over the pump on the right side.
The system is an Akron Eductor 3096-95 single agent with a thirty (30) gallon foam cell.
The pumphouse is a side control 45″ control zone.
Pumper carries the Whelen Freedom IV-Q 72″ light bar on the front. Whelen | Lightbars | Freedom® IV
In addition to the Freedom IV-Q 72″; it also carries the Freedom IV Minis at 21.5″ ea. one over each of the rear crew cab doors. Whelen | Lightbars | Mini Freedom®.