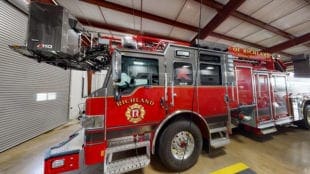 This is Richland Fire Departments Velocity 110′ Ascendant, single axle, aerial platform.
This apparatus is equipped with the TAK-4 suspension providing comfortable, efficient steering. Pierce – TAK-4® Independent Suspension Systems | Pierce Mfg
It is powered by the Cummins L9 with 450 hp. and 1250 ft. lbs. of torque with OBD and a Jacobs Compression Brake with Hi, Med, and Lo settings.
The apparatus is equipped with side roll and frontal impact protection for added safety. Pierce – Safety Systems | Pierce Mfg
The truck was constructed with 5 spare wiring circuits for plenty of available electrical power for devices and accessories.
In cab, houses a Vehicle Information System with a 7″ color monitor for viewing the camera system along with the Pierce Command Zone, an advanced electronics and control system including WIFI. Pierce – Electrical Systems | Pierce Mfg
Cameras are mounted on this rig in the front, RS, LS, and rear for viewing all sides of the apparatus.
Truck is also equipped with a Vehicle Data Recorder and seat belt monitor.
It houses a Pierce 1500 GPM single stage PUC Pump with a 500 gallon poly tank.
It carries a full ground ladder compliment of a 35′ 3-section, a 24′ 2-section, (2) roof ladders at 16′ and 10′, and a 10′ folding ladder.
The light bars are Whelen Freedom IV-Q, there is one either side of the ladder at 21.5″. Whelen | Lightbars | Freedom® IV
A Traffic advisor is installed in the rear just below the turntable to help direct traffic away from the apparatus. Traffic Advisor™ Archives – Whelen Engineering Company, Inc.
This 110′ Ascendant Platform has 750 lb. dry tip load and a 500 lb. tip load flowing water.
Equipped with a Fire Research ICA900 hands free intercom between the basket, turntable, and pump panel for communications with personnel operating.
.